Dahi Puchka
With Metro Dahi, you can easily make Dahi Puchkas in a jiffy. Taste the sweetness of dahi, tangy chutney, sev and crispiness of puchkas in this recipe.


Servings : 3          
Ingredients
12 ready-made puchkas
½ cup Metro Dahi
½ tsp black salt (or use regular salt)
1 tsp Chaat Masala powder
½ tsp Red Chilli Powder
¼ cup cooked & mashed Potatoes (mix ¼ teaspoon of salt with the potatoes)
¼ cup finely chopped Onions
¼ cup Green Pudina Chutney
¼ cup Sweet Tamarind Chutney
½ cup Sev
¼ cup finely chopped Coriander Leaves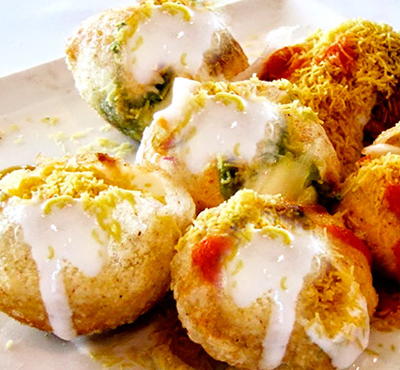 Directions
To the Metro Dahi, add chaat masala, red chilli powder and black salt. Mix well to form smooth mixture.
Arrange 6 puchkas on a plate. Make small holes in the middle of the puchkas using your index finger. (Be gentle & don't break them)
Fill each puchka with mashed potatoes & onions. Add about a tsp of the green and sweet chutneys on top of the fillings.
Generously pour 1 tbsp of the spiced Metro Dahi mixture into each puchka. Fill them with the Sev and garnish with onions and chopped coriander leaves.
Serve immediately.
---